ERP MANAGEMENT SOFTWARE FOR ALUMINUM INDUSTRY
ERP Management Software for Aluminum Industry
LIBRA is adapted to the different working patterns common in the sector, including work with standard or industrial profiles, different surface treatments, internal or external profiling, accessory handling and other usual aspects in the sector.
In addition, LIBRA includes all the necessary functionalities for the management, including ERP, Relationship Management (CRM), Process Management (BPM), Document Management, Mobility and Business Intelligence.
Features:
Generation of Master Production Plans based on the real order portfolio or simulations.
Generation of manufacturing orders.
Monitoring of production plants.
Control of quotas and production capacity.
Management of the entire life of the matrix, maintaining its history.
Inventory optimization, avoiding stock breaks.
Improvement of preventive maintenance in plant.
Reduction of manufacturing costs.
Material and resource needs planning (MRP). Graphic option in touch environment.
International quality standards.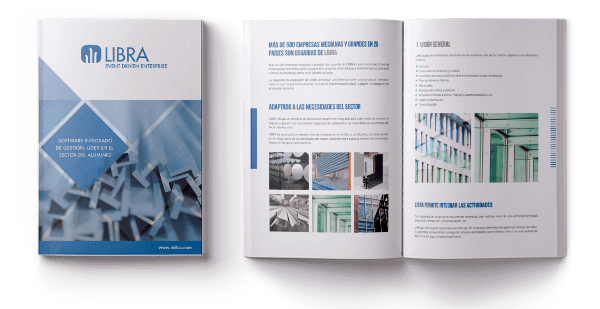 LIBRA is implanted in a large number of companies in the Aluminum sector, both in Spain and in Latin America.
Fill out this short form to receive more information:
One of our experts will contact you as soon as possible.