ERP MANAGEMENT SOFTWARE FOR ENGINEERING AND CONSTRUCTION
ERP Management Software for Engineering and Construction
LIBRA is the leading ERP management software in the Construction and Engineering sector.
The LIBRA ERP Construction and Engineering management software will help you in the management of your public and private works projects from the generation of budgets, through planning, project management, project delivery, cost deviation, subcontracting, certifications and contracts. LIBRA is implemented in a large number of companies in the sector, both in the field of engineering and in public and private works.
Features:
Complete management of public or private contests.
Import of work files from bc3 or excel.
Carrying out of studies and simulations of projects.
Integration of supplier databases to obtain sales prices.
Management of "Gannt" schedules.
Customization of the indirect cost structure for each project.
Monitoring and outsourcing management.
Control of execution other than contractual.
Real estate management: Control of property rental and sale processes.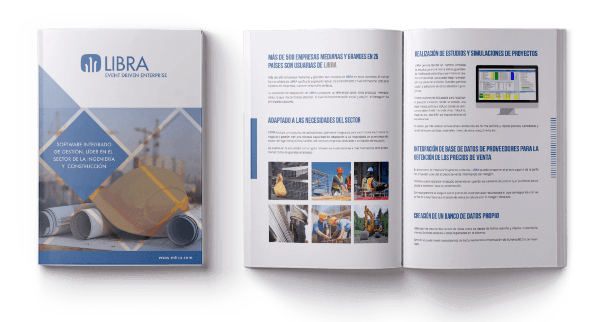 LIBRA is implanted in a large number of companies in the sector, both in Spain and in Latin America
Fill out this short form to receive more information:
One of our experts will contact you as soon as possible.