ERP MANAGEMENT SOFTWARE FOR CHEMICAL AND PHARMACEUTICAL
ERP Management Software for Chemical and Pharmaceutical
LIBRA has important references in companies manufacturing chemicals and pharmaceuticals.
LIBRA allows you to optimize the processes of productive plant, focusing on product traceability and compliance with applicable sanitary regulations and quality control. The system allows the production management, integrating with the plant systems.
Likewise, LIBRA offers all the logistical functionality necessary to meet the requirements of customers and the commercial channel (product presentations, coding, etc).
Features:
Generation of Master Production Plans based on the real order portfolio or simulations.
Automatic or manual generation of planned and / or firm manufacturing orders.
Generation of control documents for the factory (routing sheets, bills of materials and parts).
Monitoring of production plants.
Management of regulations and documentation of medicines.
Logistics adapted according to the approval of labels.
Calculation of shipping rates in sales.
Supplier approval and evaluation.
Product traceability management both upstream and downstream.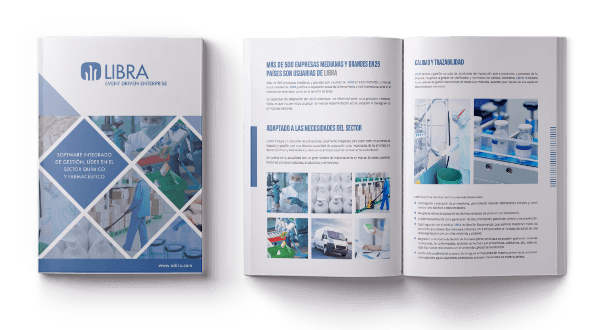 LIBRA is implanted in a large number of companies in the sector, both in Spain and in Latin America
Fill out this short form to receive more information:
One of our experts will contact you as soon as possible.