ERP MANAGEMENT SOFTWARE FOR FOUNDATIONS AND ASSOCIATIONS
ERP Management Software for Foundations and Associations
LIBRA is adapted to the needs of foundations, associations and other entities of the third social sector, providing the following functionalities.
LIBRA ERP Foundations management software is adapted to the needs of companies in the sector, not only managing the foundation internally, but also facilitating the integration into the system of all the groups with which it interacts (Board of Trustees, partners , collaborating entities, work groups, beneficiaries, suppliers …).
Features:
Support for the preparation of the entity's budget.
Entity management and CRM.
Project Management, which is normally the main axis of activity of this type of organization.
Training, scholarships and other usual benefits of entities.
Asset Management.
Integration with WEB portals, guaranteeing the concept of unique data.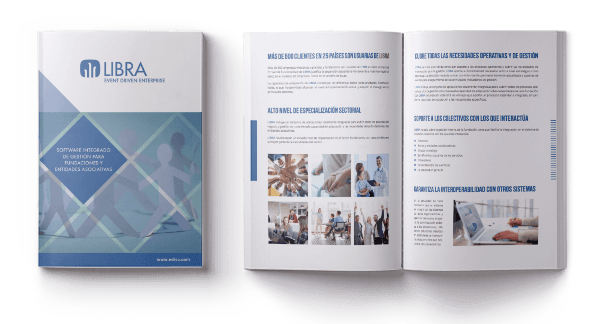 LIBRA is implanted in a large number of companies in the Foundations sector, both in Spain and in Latin America
Fill out this short form to receive more information:
One of our experts will contact you as soon as possible.