COMMUNITIES AND WORKING GROUPS
LIBRA ERP Communities and Working Groups
Community and Working Groups module, facilitates internal communication within the organization, allowing to share the knowledge of the organization, defining thematic areas or working groups. 
LIBRA includes a module to manage communication, allowing the creation of communities or working groups. 
The main objective is to significantly reduce the use of group emails within the organization itself, adding the main advantage to keep a historical record of all the information that has been shared in each of the working groups. 
Main functionalities:
Possibility to define communities and assign them to specific LIBRA users or groups of users

.

 

Subscription to communities by users, with the possibility to set email alert

s

 of new 

messages

. 

 

An activity dashboard that displays posts,

 

comments, and "likes"

 

in each of the communities

 is available

. 

 

The program to create new entries in the 

community,  includes

a rich editor, which allows to format the contents:

 include tables, images, bold, etc.

 

The option to publish surveys within the community is available.

 

 Possibility to create a classification of folders or subtopics within each of the working groups. The user can follow the thread of a particular entry and will continue to receive notifications from each of the entries that any other user can make. 

 

The program inc

ludes

 the possibility to view the name and photograph – associated image of all users who are part of a certain community. 

 

News search options by date, author, or content. 

 

Possibility to sort the entries in the favorite group and access them at any time.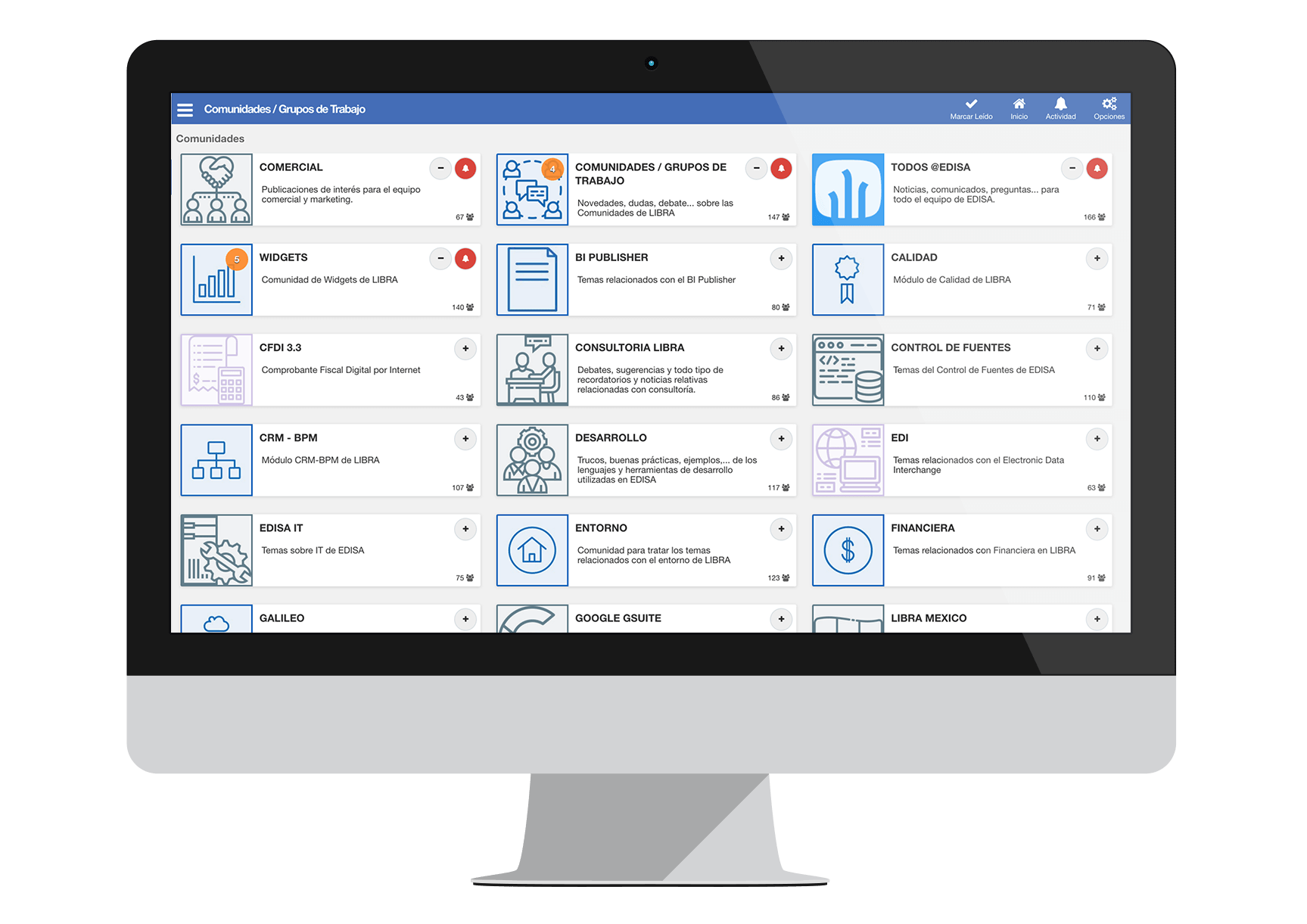 LIBRA ERP HAS 30 FULLY INTEGRATED MODULES THAT COVER ALL THE FUNCTIONALITY OF THE COMPANY
Fill out this short form to receive more information:
One of our experts will contact you as soon as possible.