Warehouse Management LIBRA ERP
The Warehouse Management (SGA) module is aimed at logistics personnel, to optimize operations fundamentally related to warehouse management, leading to the management of warehouse locations and all physical movement of products. It is usual that part of the logistics operations require mobility and, therefore, terminals adapted to each need must be used:
Small hand-held or trolley terminal, with keyboard adapted to the needs and ergonomics of the station.

Endowed with the necessary robustness in the environment of warehouses or plants.

Permanently connected to the system via wireless network.
Taking the availability of screen space as a limitation, radiofrequency applications optimize the presentation and capture of data in logistics processes, it being common to have barcode readers, RFID readers or voice recognition systems.
Main features of the Warehouse Management module:
Management of purchase tickets.

Placement, expeditions / preparation.

Management of the replacement of picking locations.

Cross Docking.

Breakage or deterioration.

Counts and inventory regularization.

Location changes.

Pallet unification.

Warehouse task control: through task control, the warehouse manager will be able to plan, consult and assign the tasks of the operators.

Establishment of work areas in the warehouse and allocation of the machines that can access said area.

Parameterization options to define relationships between locations and articles.

Management of boxes where to leave the merchandise during the preparation.

Route management in the preparation process.

Maximum pallet weight and maximum roll weight, allowing blocking or alerting in case of exceeding these weights in the preparations.

Control of users so that their productivity can be analyzed.

Visualization of the warehouse in 3 dimensions, being able to represent the products that meet a certain criterion.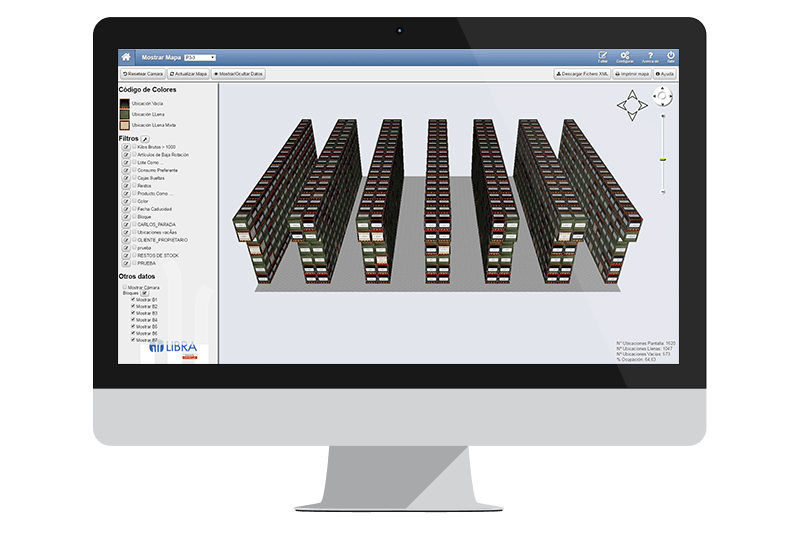 LIBRA ERP HAS 30 FULLY INTEGRATED MODULES THAT COVER ALL THE FUNCTIONALITY OF THE COMPANY
Fill out this short form to receive more information:
One of our experts will contact you as soon as possible.