Purchasing Procurement LIBRA ERP
The LIBRA ERP Purchase Management module allows you to manage all the processes related to the Purchase-Procurement of raw materials, products, fixed assets and / or services, including the management of purchase requests, the management of orders and their receipt, the delivery notes and invoices, and their accounting.
It allows the management of purchase files, the processing of contracts and / or agreements with suppliers and other complementary features. It offers a great capacity for integration with the supply chain through EDI, XML or specific portals of network business.
The module is directly related to the LIBRA modules of Logistics Management, Production, Sales Management and Financial Management. Also with Quality Management (for the evaluation of suppliers and the performance of inspection parts associated with material inputs) and Maintenance (for the management of delivery notes for external repairs of machinery).
Main functionalities Purchasing Procurement Module:
Multi-storage and multi-currency.

Free definition of all purchasing operations.

Purchasing organizations.

Supplier specifications.

Purchase prices (base rates, discounts and supplier offers).

Shipping rates.

Formats of the purchase documentation (orders, delivery notes, invoices).

Automatic generation (from stock, plans of sale and manufacturing, and orders in progress) or manual capture.

Option to assign ranges that approve or reject purchase requests.

Management of offer requests to suppliers (budgets).

Creating and tracking requests.

Assignment of purchase requests to suppliers (manual assignment, vendor automatic assignment).

Automatic generation of orders (from assignments to suppliers) or manual capture. Option to automatically generate purchase orders from sales orders.

Confirmation, claim, cancellation and closure of orders.

Logistics of receptions and management of material delivery notes.

Transit management.

Automatic delivery (from preorder) or manual delivery.

Management of the prices of the materials, with possible rectification of the economic conditions of the purchase.

Returns to suppliers.

Purchase invoices.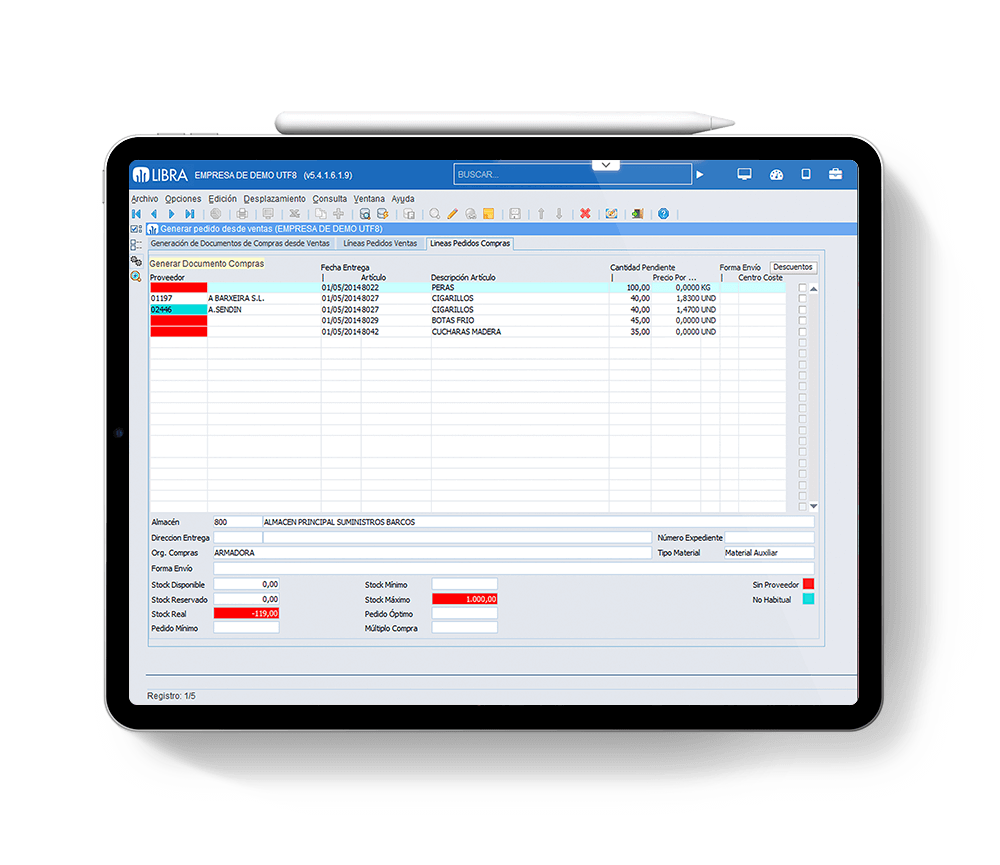 LIBRA ERP HAS 30 FULLY INTEGRATED MODULES THAT COVER ALL THE FUNCTIONALITY OF THE COMPANY
Fill out this short form to receive more information:
One of our experts will contact you as soon as possible.