ERP MANAGEMENT SOFTWARE FOR INDUSTRIAL BUCKETING
ERP Management Software For Industrial Bucketing
These are products of great consumption at present. In this type of companies, LIBRA provides all the necessary tools for the management of production costs, for organization at the operational level (orders, storage, deliveries) and for all administrative management. Since they are industrial companies, almost all the implantation make use of terminals operated by radio frequency to optimize the operations of the plant and preparation times. Likewise, in this type of business, it is usual to provide the commercial team with Client Relationship Management (CRM) tools that allow them to manage their client portfolios and offer relevant products.
LIBRA allows you to optimize the processes of a production plant, focusing on traceability of the product and compliance with applicable sanitary regulations and quality control. The system enables production management, integrating with the plant systems and with a clear orientation to the optimization of costs. Likewise, LIBRA offers all the logistical functionality necessary to meet the requirements of customers and the commercial channel (product presentations, palletizing typology, coding, etc).
Main Functionalities:
Production planning and control: lines, machines, structures, routes …
Asynchronous control of the generated production orders.
Integration with scales, labeling machines, automatons, industrial machinery and machine vision systems.
Standard manufacturing cost estimate and actual cost comparison showing deviations.
Total quality management.
Environmental management.
Registration and control of all plant maintenance operations.
Management of located warehouses: picking, automatic replenishment, placement.
Integration with RFID systems and Voice Picking.
Palletized product control.
Stock management in own and / or subcontracted warehouses.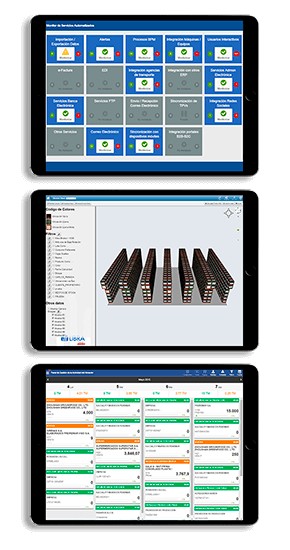 LIBRA is implanted in a large number of companies in the sector, both in Spain and in Latin America
Fill out this short form to receive more information:
One of our experts will contact you as soon as possible.