ERP MANAGEMENT SOFTWARE FOR PURCHASE CENTERS
ERP Management Software For Purchase Centers
Many companies base their purchasing management on central purchasing. LIBRA includes the necessary functions to be able to centralize the purchases, oriented both to the companies that are supported in centre of the purchase, as well as to particular plants. 
Among the functionalities offered is the automated billing, used for discounting the management margins of the plant or the possibility of parameterizing different possibilities of centralized management; Orders, deliveries, invoicing or payments.
Main Functionalities:
Environmental management.
Registration and control of all maintenance operations.
Definition of the product adapted to each subsector: perishable, non-perishable, fresh, frozen products, etc.
Management of import files.
Management of located warehouses: picking, automatic replenishment, placement.
Management of different types of warehouse: cold, dry, frozen …
Integration with RFID systems and Voice Picking.
Palletized product control.
Stock management in own and / or subcontracted warehouses.
Integration with purchasing centers.
Treatment of deliveries, freight, green point and waste (CER).
Vehicle management, license plates, tare and maximum load.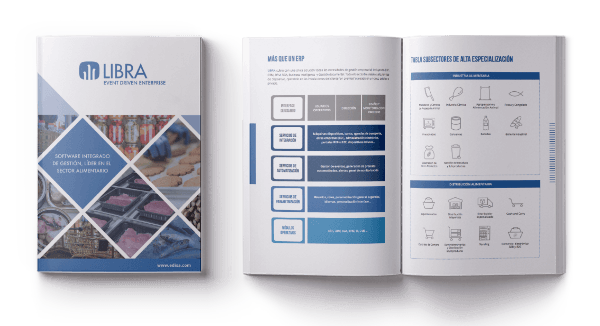 LIBRA is implanted in a large number of companies in the sector, both in Spain and in Latin America
Fill out this short form to receive more information:
One of our experts will contact you as soon as possible.