ERP Management Sofwtare for Slaughterhouses
ERP Management Software for Slaughterhouses
There are important references in breeding activities, animal processing centers as well as in the processing industries.
LIBRA allows you to optimize processing rooms, taking into account the traceability of the product, and the compliance with the applicable sanitary regulations.
LIBRA allows you to carry out a multi-production task, which facilitates the obtaining of multiple products from the same production order, managing breakdown processes, and integrating with the data collection systems in the plant.
In addition, LIBRA includes all the necessary functionalities for business management, including ERP, Relationship Management (CRM), Process Management (BPM), Document Management, Mobility and Business Intelligence (BI).
Main Functionalities:
Pickup planning.
Input process: reception, vehicle weighing, supplier identification.
Truck unloading process.
Abatement, slaughter planning.
Animal classification.
Automation of stocks resulting from slaughter.
Sacrifice Quadrant.

Closing Orders.

Slaughter report.
Definition of multiple cutting lines.
Output parts Labeling.
Integration of weighing elements (scales, hook, labeling machines …)
Production orders for cutting.
Prorate management to obtain the cost price.
Control points configuration.
Chained operations management.
Yield calculation from live animal to cutting.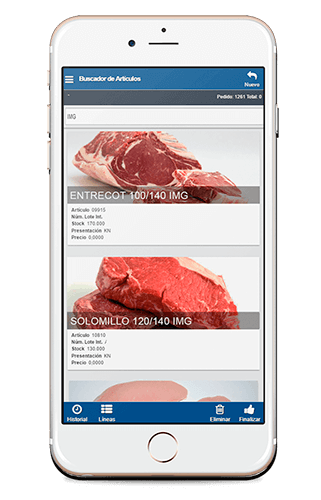 LIBRA IS IMPLANTED IN A LARGE NUMBER OF COMPANIES IN THE SECTOR, BOTH IN SPAIN AND IN LATIN AMERICA
Fill out this short form to receive more information:
One of our experts will contact you as soon as possible.