ERP MANAGEMENT SOFTWARE FOR WASTE MANAGEMENT
ERP Management Software For Waste Management
The last cycle in most industrial processes or in the food industry is the management of waste and by-products that are generated in industrial processes. LIBRA has references in several companies of waste collection, providing all the necessary functionality in this type of companies; Logistics of collection, treatment, billing services, etc. In this type of company, logistics management is key, including Mobility applications.
In addition, LIBRA includes all the necessary functionalities for business management, including ERP, Relationship Management (CRM), Process Management (BPM), Document Management, Mobility and Business Intelligence.
Main Functionalities:
Production planning and control: lines, machines, structures, routes …
Asynchronous control of the generated production orders.
Integration with scales, labeling machines, automatons, industrial machinery and machine vision systems.
Standard manufacturing cost calculation and actual cost comparison showing deviations.
Comprehensive quality management.
Environmental management.
Registration and control of all plant maintenance operations.
Management of located warehouses: picking, automatic replenishment, placement.
Integration with RFID systems and Voice Picking.
Palletized product control.
Stock management in own and / or subcontracted warehouses.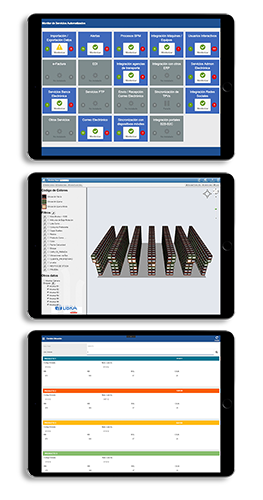 LIBRA is implanted in a large number of companies in the sector, both in Spain and in Latin America
Fill out this short form to receive more information:
One of our experts will contact you as soon as possible.